BILLETS
SS Billets Manufacturer, Stainless Steel Billets Manufacturers India - JAY JAGDAMBA LIMITED
Shree Jay Jagdamba Stainless Steel Ltd:- Stainless Steel Billets Manufacturers Mumbai India, Alloy Steel Billets, Carbon Steel Billets, Mild Steel Billets, Bar, Square Bar, Flat Bar, Hex Bar, Bright Bar, Forged Bar, Round Bar Stockist Suppliers Mumbai India
Stainless Steel Bar, Square Bar, SS Flat Bar, AS Hex Bar, CS Bright Bar, Stainless Steel Forged Bar, Stainless Steel Round Bar, Stockist, Suppliers, Distributors, Dealers, Stainless Steel Billets Manufacturers India, Alloy Steel Billets Manufacturers India, Carbon Steel Billets Manufacturers India, Mild Steel Billets Manufacturers India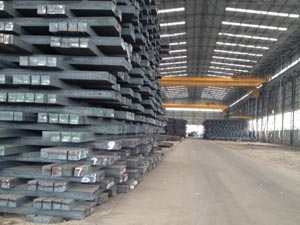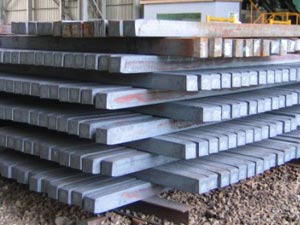 We offer wide range of Stainless steel Billets in 300, 400 Series like 304, 304L, 316, 316L, 321, 347, 2205, 2507, 17-4PH & High Nickel Alloys in all Grades & Specification also as per customer specifications and requirement:
Our Sizes: 80 X 80 mm, 100 X 100 mm, 120 X 120 , 140 X 140, 160 X 160, 200 X 200 mm,
Length: Exact or random as per buyers requirements
Our modern steel melting Shop consists of an induction furnace, A continuous casting machine. The quality is controlled by highly trained personnel by means of continuous testing and process control. This shop produces billets / blooms / RCS in various special steel grades as per IS, BIS, DIN Standards.

SIZE RANGE BILLET / BLOOM 80 X 80 mm, 100 X 100 mm, 120 x 120 mm, 140 x 140 mm, 160 x 160 mm, 200 x 200 mm,

MAJOR STEEL GRADES:
301, 302, 304, 304L,309,310,316,316L, 316Ti, 317L,321,329,347,AND ALL OTHER 300 SERIES GRADES...

JAY JAGDAMBA LIMITED offers its Continuous Castings Billets for various applications like
Forging Industries – for forging, upsetting, and ring-rolling applications. A very important field of application for Jagdamba's semis is the production of flanges.

Re-rolling Industries – for re-rolling into various Sections & Profiles

Processing Industries – for peeling or turning the Hot Rolled Bars into the Cold Finished Bars & Precision Shafts.

At CCM, we take all the necessary precautions to avoid the ingress of gases from the atmosphere during its Billet casting process. This is done by ensuring completely closed casting through Argon Shroud during Continuous Casting. In case of Ingot Casting, it is ensured by providing an Inert Gas Shroud to the metal stream between trumped & the ladle. The material also conforms to the Siemens & Bosch specifications.

| | |
| --- | --- |
| Size Range | Billet Weight Per Meter |
| 120 x 120 mm | 112 Kg |
| 140 x 140 mm | 152 Kg |
| 160 x 160 mm | 200 Kg |
| 200 x 200 mm | 314 Kg |

Supply Conditions
Suitable for Ring Rolling, Forging, Re-rolling & Up-setting.
Maximum length up to 9 meters
Cold Sawable
Hard Stamped with Heat Number, Grade & Size & Weight of the Billet
Spot Ground or Fully Ground Surface - as per the requirement
Free from surface defects & Cracks
Smooth ends (without burrs) / No sharp edges
100% material identity tested thru Niton handheld spectrometer